Hanseatic Offshore Brokers was established to provide turn-key solutions to our clients within the Offshore Industry. As an experienced boutique broker house with offices in Europe and Asia, we offer a complete service covering Sale & Purchase, Newbuilding, Chartering, and Consultancy within the maritime industry.
We always strive to deliver a highly professional service and strictly individual solutions that meet the goals of concluding successful transactions for the customer no matter whatever challenges we are faced with from the market.
HOB is a value-driven company interested in offering a complete portfolio of specialised services in order to build, grow and maintain prosperous long-term relationships with our clients, owners, and partners.

01
We provide chartering services within project charters, time charter as well as bareboat charters. Service segments are covered from tug-barge combinations to Semi-Submersible Vessels. Our brokers establish a "hands-on" approach, having close relations with owners and charters in the maritime industry. The segments we cover are as follows:

Towing Operations & Project Cargo / Wet & Dry
Procurement of Offshore Support Vessels & Assets
Renewables
Oil and Gas E&P Rig Support
Subsea Construction

02
Our coverage ensures a strategic approach in one of our core markets in the sales and purchase business working as a "middle man" between buyers and sellers. With our close direct links to the market, we are able to provide not only the market but for private opportunities that allow us to guide clients very closely. Over the last decades, we have established long-term close relationships that were cultivated into the track record of successfully concluded sales in several international markets worldwide.

03
Newbuilding Contracts We utilize our vast network of yards, designers, and equipment suppliers to offer our Clients bespoke solutions for any New Build or Conversion project. 
Our services cover all stages of the programs from beginning to finish such as developing the tender documents and pre-qualification of the yards in line with selecting and guiding clients on vessel designs together with assisting during the negotiations and contractual stages. Clients can rely on carefully thought out and accurate guidance for project evaluations worldwide to ensure a full coverage that is the right fit for their needs.

04
From time to time our clients require specialized reports on particular parts of the market, specific vessels, or projects as a whole. Given the insight that we have into the market on a daily basis in all aspects, we are able to produce and provide specific tailor-made reports and market analyses on request for any client's individual needs. We have a proven track record of providing niche case studies for financial institutions and shipowners alike that both benefit from our in-depth market coverage individualized attention to their needs. When making decisions that affect your company's ability to navigate rough waters in its business and market to the best of its ability all of the latest information must be on hand available on short notice. With your business in mind, we are ready to service any needs your company may require when making strategic decisions.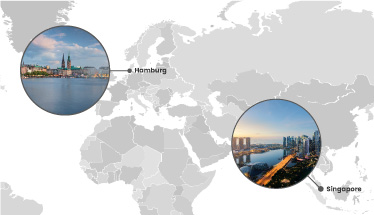 Thanks for contacting Hanseatic Offshore Brokers. We will get back in touch with you soon.
          12 Marina Boulevard
          #17-01 MBFC Tower 3
          018982 Singapore